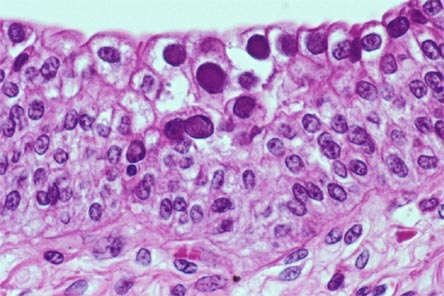 A noninvasive, accurate biomarker for diagnosis of BKVN is being sought. Recent article in Transplantation reports using the urinary cell mRNA profile at the time of BK Nephropathy diagnosis and compared to risk of graft function.
BK Nephropathy was diagnosed with a sensitivity of 100% and specificity of 97% using the urinary mRNA. Levels of granzyme B (GB) mRNA and proteinase inhibitor (PI)-9 mRNA in urinary cells were higher in BKV patients with a subsequent decline in renal function compared with patients with stable function, and were positively associated with rise in serum creatinine from the time of BK diagnosis to 12 months after diagnosis.
This confirms the fact that urinary granzyme B and PI-9 could be used as markers of inflammation during any renal episode post transplant. Similar findings were seen in rejection as well. It seems that no matter what causes the inflammation, BK or rejection, a rise in urinary GB and PI-9 suggests a poor prognosis.
Reference: