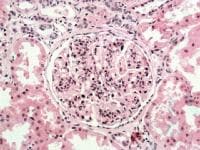 Membrano Proliferative Type III is a rarely discussed entity. What is that and when do you usually see it?
Few pointers:
1. Simplistic way to look at it:- MPGN III = MPGN type I + Membranous GN
2. So, you see sub endothelial deposits, double contouring and sub epithelial deposits
3. IF usually shows C3, IgG and IgM
4. Clinically, features are similar to MPGN 1
5. Some renal pathologists will consider this as a variant of MPGN I with increase subepithilial deposits
6. Complements are low only in 50% of patients
7. One of the first cases described was in a patients ( child) with hepatitis B surface and e antigenemia.
8. Other cases have been seen in tropical diseases and autoimmune disease associated or idiopathic as well.
9. Degree of relapse is more. Steroids can be tried. Treating underlying secondary cause might be crucial
image source: medscape.com
Ref:
http://www.ncbi.nlm.nih.gov/pubmed/15012698
http://www.ncbi.nlm.nih.gov/pubmed/12042898
http://www.ncbi.nlm.nih.gov/pubmed/9669425
http://www.ncbi.nlm.nih.gov/pubmed/6363317